CREB Now August 2022 Market Update: Supply levels ease with fewer new listings in August
City of Calgary, September 1, 2022 – August sales activity was comparable to the strong levels recorded last year and well above long-term trends for the month.
While sales have remained relatively strong, there continues to be a shift towards more affordable options as the year-over-year pullback in detached sales was nearly matched by gains for multi-family product types.
"While higher lending rates have slowed activity in the detached market, we are still seeing homebuyers shift to more affordable options which is keeping sales activity relatively strong," said CREB® Chief Economist Ann-Marie Lurie. "This makes Calgary different than some of the larger cities in the country which have recorded significant pullbacks in sales."
At the same time, new listings continue to trend down, preventing any supply gains or a substantial shift in the months of supply.
Despite year-over-year gains in new listings, the spread between new listings and sales this month narrowed compared to the past three months. This caused total inventory to trend down and prevented any significant shift in the months of supply. The months of supply in August remained at just above two months, not at tight as earlier in the year, but still below levels traditionally seen this time of year.
For the third month in a row, benchmark prices eased declining to $531,800. While the reduction reflects shifting market conditions, it is important to note that previous gains are not lost, and prices remain over 11 per cent higher than last year.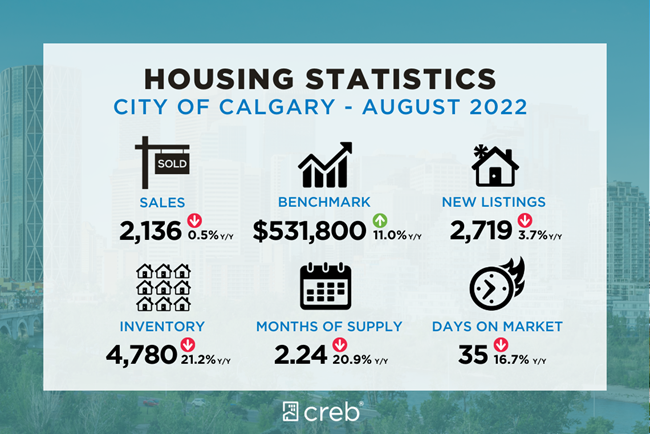 Detached
Sales continued to trend down compared to levels seen earlier in the year and August of last year. While the recent declines have not offset the strong gains reported earlier in the year, conditions are changing in this segment of the market. At the same time, we have seen listings continue to ease in for lower-priced homes. This is causing persistently tight conditions for homes priced below $500,000. Meanwhile, supply gains in the higher price range of the market are supporting more balanced conditions.
Easing demand has had an impact on prices which have trended down relative to the high levels achieved in May. However, with a benchmark price of $633,000, levels are still over 13 per cent higher than last year.
Semi-Detached
There was a significant pullback in new listings relative to a slight easing of sales for semi-detached properties this month. This caused the sales-to-new-listings ratio to push above 80 per cent for the first time since April while total inventory dropped relative to levels seen over the past several months and last year. Like the detached sector, conditions do vary depending on price ranges with the lower-price ranges continuing to see relatively tight market conditions.
Despite the adjustment this month, prices still trended down compared to May levels. However, like other property types, price levels are over 10 per cent higher than last year with a benchmark price of $569,300.
Row
Despite sales trending down relative to levels seen earlier in the year, the row-home market remains strong and year-to-date levels are nearly 50 per cent higher than last year. At the same time, there was a notable decline in new listings this month causing a decline in inventory levels. This prevented any significant adjustments to the months of supply which remained below two months.
While market conditions remain relatively tight, home prices have remained fairly stable over the past few months. Overall, the benchmark price for row properties in August was over 14 per cent higher than levels reported last year.
Apartment Condominium
Sales activity improved in August, contributing to year-to-date record sales of 4,576 units, which is an increase of 65 per cent compared to last year. Some of this growth was possible thanks to this segment of the market having more supply. However, the recent growth in sales relative to new listings has caused the supply gap to narrow.
Though conditions have shifted over the past month, prices remain relatively stable compared to July but are over 10 per cent higher than last year's prices. Despite the recent gains in prices, apartment condominium sales remain below peak prices set back in 2014.
REGIONAL MARKET FACTS
Airdrie
Sales in Airdrie continued a downward trend that began in April. While new listings have also trended down compared to earlier in the year, there are still more new listings on the market this month than there were last year. Overall, inventory levels are starting to rise from the exceptionally low levels, causing the months of supply to shift away from the strong seller market conditions.
Despite recent shifts in supply demand balances, with less than two months of supply conditions still remain tight. Nonetheless, prices continue to trend down from earlier in the year as purchasers become more cautious. While this has slowed the pace of growth, prices still remain over 18 per cent higher than last year's levels.
Cochrane
In August, easing sales were met with gains in new listings, causing the sales-to-new-listings ratio to drop to 70 per cent in Cochrane. The rise in new listings compared to sales caused inventory gains, but levels are still far below what is typical for our market.
The gains in inventory did support a shift toward more balanced conditions, but with a month of supply still averaging just over two months, conditions remain tight. Benchmark prices in the centre remain relatively stable this month but is still nearly 17 per cent higher than levels reported last year.
Okotoks
In Okotoks, the residential benchmark price was $549,300, reflecting the third consecutive month where prices trended down. However, recent pullbacks have not offset earlier gains and prices are still 16 per cent higher than last year.
Home sales in Okotoks continued to trend down despite a gain in new listings supporting slightly higher inventory levels. These recent shifts in the market are supporting a shift away from the exceptionally strong sellers market conditions seen earlier in the year. However, with less than two months of supply market conditions still remain tight.
Click here to view the full City of Calgary monthly stats package.
Click here to view the full Calgary region monthly stats package.
https://www.creb.com/News/CREBNow/2022/September/Aug_housing_stats_2022/
---
Pete and Katelyn's Market Update:
Katleyn: Hi guys. It is Pete and Kate with Remax Professionals with another market update, this is 2022.
Pete: Yeah. And let me start by thanking you for taking some time out of your job setting lifestyle, to be here, to do this, to do this market update, you know,
Katleyn: You're welcome.
Pete: Kate flew in from Hawaii last night. She's flying away to Vegas tomorrow.
Katleyn: Here today, gone tomorrow!
Pete: Yeah. Yeah. Jet off to another sunny location.
"Hello, Mr. George, how much you pay for the, for the new guy? 20 bucks? No too much money. It's no good."
Katleyn: Anyway. So how how's the market doing Pete? Let's go!
Pete: It's actually really good. Like we keep hearing in the news about how the market is, you know, it's, it's not doing well and you know, and interest rates are killing it and blah, blah, blah.
Well it might be doing that in some areas of the country, but in Calgary, we're actually doing really well! August of last year, which is what we're gonna be comparing. A lot of our numbers to was a really strong month. And in some ways, August of this year was even better than last year. So in terms of our sales, we're down like half a percent, which it means we're. you know, we're on par with last year in terms of sales. Yes. But when you look at our inventories and some of this other stuff, which we're gonna get into, you're gonna see that our absorption rate is about 10% better than it was last year. So I'm saying if that's what it's gonna do when the market gets really soft during this last, you know, during August and stuff, the last kind of month of summertime and we've just had an inventory rate hike and stuff like that.
Yeah. I'm thinking, you know, interest, interest rate hikes are like that. It kind of takes people to sort of get used to it and kind of going, well, this is the new reality, but we still gotta live somewhere. So they gotta buy. So anyways. Yeah, I think it's actually been, I think it's actually still a very strong market.
Definitely still a seller's market.
Yeah. Cause like I said, sales are down half a percent. And when you look at new listings and inventory, what can you tell us about that?
Katleyn: Let's look at a new listings first. New listings are also down 3.7%. So about 2,700 compared to what it was last year. And then when we look at inventory, it is also down about 21% compared to what it was last year. So that's about around 4700 compared to what the rest of Canada is doing though. I'm hearing that. BC I'm hearing Ontario, their numbers are..
Pete: Inventories are piling up. Yeah. Starting to a little bit, even those.. Ones are not doing as bad as the as they've been forecasted, but you know, here we're still at a two and a quarter month supply. That's it. Two months in one, if we stop listing homes at the rate, we're selling them in two months in one week, we'd have no listings left. So that's still a very, very strong seller's market. And I'd say that if you're a buyer, I'd be a little concerned. I, you know, I probably, I, I hate to tell people now is the best time to buy a house, cuz the reality is.
The best time to buy a house was 20 years ago. But seeing as you probably missed it 20 years ago, I would think seriously about buying quickly because I don't see anything happening other than prices are gonna be going up. Yeah. They haven't been in the, in the higher price ranges because of that interest rate hike.
But, but sales are really strong now in the more affordable markets and that kind of stuff. So let's look at those in terms of. Total residential, like in terms of the benchmarks what are we at now?
Katleyn: Yeah. So for the total residential benchmark, compared to what we were at last year, it has increased as well, about 11%, actually 11% compared to last year. So we're about $531,000 compared to where we were last year.
Pete: And we've seen like small, like very, very small price decreases month over month for the last three months. Year over year, which we always joke. We go, you know, buying a house is not a month long investment. No, you know, usually you're gonna live there for longer than a year.
It's a year over year thing and we're seeing 11% price increase. I think that's gonna continue. Who knows again, we say it every year or every month, but I don't have a crystal ball. But when you see inventory levels this low and you see a two and a quarter month supply , I think it's only a matter of time before prices continue to increase.
So yeah, breaking down that total residential benchmark price though the detached market is the one that started the year really strong. And now that's the market that's been decreasing a little bit. Yeah. A month over month. But even then year over year, we're still up over 13%, our benchmark price and the detached market is $633,000.
Katleyn: Let's talk about the semi detached price. So we're not talking about the row townhouses. We're also up again, 10.2% compared to what we were last year. So we're at $569,000. So let's talk about row license.
Pete: Yeah. And row houses are up as well. They're up substantially actually, which kind of had to happen. I mean, townhouses were beat up so bad for so many years in Calgary. And right now year over year, we're up 14% year over year to $361,000 . And that's a lot of that has happened just in the last few months. Like I said, with this rate increase that we had it's the affordable market it's really been, been picking up steam and the same thing applies to the apartment price. What are they now?
Katleyn: Exactly. They're at like they're at $277,000 for the benchmark price. So that's an increase of 10%, 10.2%. So over 10% compared to what it was last year. Yeah. To actually really good.
Pete: Yeah, to see apartments do that is pretty encouraging. Exactly. Especially since a lot of them are downtown, which isn't the market that's been been all that exciting.
Katleyn: No. City center right now for the benchmark price is sitting at an in it's still an increase, but it's not as it's not doing as well as the other quadrants in the city. It's up 5.7%.
Pete: Yeah. So just less than 6% yeah of a price increase there. And, and that's sort of been holding back the rest of the city a little bit, but I, that has to change, like at some point, we at, at some, at one point, I don't know, maybe a year ago, we still had about a 30% vacancy in, in residential condos, in the downtown, actually in the Belt Line.
Which I would suggest probably was reflective of most of the downtown. But I only looked at the belt line at that time and we saw 30% vacancy rate. As that vacancy rate gets down to less than 5%, all of a sudden you're gonna see those prices increase and you'll probably see some dramatic prices increase again. I don't know. I, I don't know the future.
Katleyn: You don't have a crystal ball.
Pete: No but I do think that it's, it's just bound to happen, you know, as the price of houses. Whereas the price of oil and gas continues to go up the way it has and as you know, our country continues to allow 400,000 people a year into the country, plus the Ukrainian refugees.
Yes. That in addition to people not being able to afford to buy condos in Vancouver or the lower mainland or Ontario, or the Southern Ontario, or Toronto, like it's, it's only a matter of time before these condos are all picked up and then all of a sudden we're gonna have a very, a real tightening of the inventory of the condo market.
In the meantime, what areas of the cities are, are actually doing well over the area?
Katleyn: Well, the Northeast actually is doing really well at sitting at…
Pete: Who would've thought.
Katleyn: I know sitting at over 16.2% increase compared to what it was last year. So that's about $421,000.
Pete: And that's just. Only slightly less than the best performing area. Yeah. Which would be the north central area. So that'd be like harvest Hills to sort of Panorama that kind of area. And then the other one would be the Southeast, right?
Katleyn: Yeah. I think that's one definitely worth mentioning cuz we're sitting at about an increase of 15.3%. So that's about $524,000. Your deep Southeast communities, all of those newer communities sitting down there.
Pete: Yeah. Down in Mahogany and, and some of those places well, I just wanna add, like we do every month too, that if you wanna know what's going on in your immediate market, whether that's what did I say that one time it worked out really well. A two story in, in Tuscany. Oh, Tuscany or, or a bungalow in Beddington.
Yes. Give us a shout. We're happy to tell you what your place is worth. And on top of that, if you're thinking about selling, especially then give us a shout, cuz we'd be happy to show you not only what price we think we can get for your house, but how we think we'll do it as well. So if you're thinking about selling your place, have, you know, have us over, but you know, even have a couple other agents over as well, interviewing more than.
More than one series of realtors and see what the differences are. Normally when people do that, they do choose us, but you never know, you could, you could just connect better with somebody else or whatever, but it never hurts to have a couple of different opinions as to not only the price, but even, you know, what their, what their plan is to market your home and that kind of thing.
So give us a shout. Our numbers are at the end of this video and Katelyn wish you a, another great trip. Hopefully the next time you fly in you jet in from somewhere sunny, you can hang out for a little longer than a day or two.
Katleyn: Oh yeah, I will. But more, more than 24 hours.
Pete: Thank you for gracing us with your presence long enough to do this video.
Katleyn: Thank you. Still a little jet leg, but it's okay.
Pete: Yeah. Well, you know, nothing like taking off to another flight when you're still jet leg from the first one, have a great day. Everyone give us a shout anytime.
Katleyn: Bye guys!